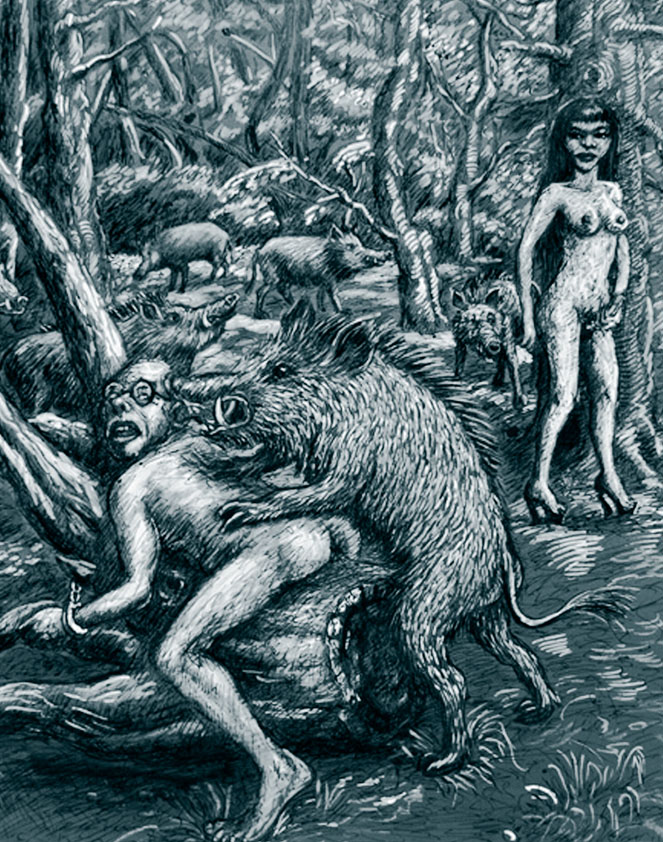 Feature Writer: Museum of Porn in Art
Feature Title: Satan's Daughter – The work of Reinhard Scheibner
Link: 2011 / https://www.porninart.com/exhibition-2011-page?id=103

Link to artist's work: http://www.reinhardscheibner.com/
LINK TO IMAGES:

More to be added soon…
Satan's Daughter

The Museum of Porn in Art presents:
"Satan's Daughter" an exhibition with drawings by Reinhard Scheibner
Like many artists, he is fascinated by the radical consequence of the criminal, the deliberate violation of bourgeois morality. The abyss, the absurd, the nightmare, "the terribly beautiful of the deed" (Nietzsche) are far more productive than the beautiful, true, good. The lowlands of human existence are explored here, it always goes straight to the point. The scene is dominated by brute force. The perpetrators are doctors, police officers, lust killers, punks, skinheads, fucking dogs. The mad man next door – he's just systematically wiping out his family. Giant women who let off steam on their puny little men: perverts, put their hands on themselves and have them laid. A nice modern panda monion is sarcastically served with a lot of love on the presentation plate.