Feature Writer: Toevah Mumar
Feature Title: Lure of Sodomy
Link: MeWe / https://mewe.com/profile/5c097c324aa0db2b7f3eed60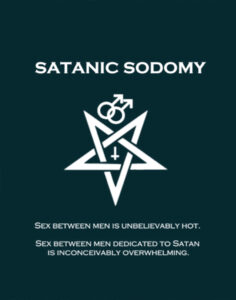 Lure of Sodomy
Lord Satan uses the lure of Sodomy to extend a call to xstian men. It is one of the most effective ways to interact with a man's dark side. I always thought man sex was disgusting. One day I was tempted to go into an adult video store where I went into a booth to watch porn. I was intrigued and strangely excited by the gay porn. Soon a young man pushed my door open and I let him in. He went down and put my hard cock in his mouth. It was incredibly good.
Without thinking I found myself moving closer to his cock and then I took it in my mouth. It was as if something outside me was moving me to suck him. I didn't necessarily want to, but I couldn't stop myself. Yes, I was disgusted after that even though he did not cum in my mouth. But, praise be to my Lord Satan, I was never the same after that day. Not only did I like the experience, from that point I began my life long craving for man sex. Perhaps you are reading this and don't know why.
Perhaps you, too, were always disgusted with man sex. But, you are strangely drawn to be here today. Why don't you send a contact request or chat request to me. I will be more than glad to listen to you and help you understand what you are feeling. No commitments. No guilt. No shame. Please don't fight it. You can't fight it. Trust me, it will never ever go away. As I said before: Hail Sodomy! Hail Satan!