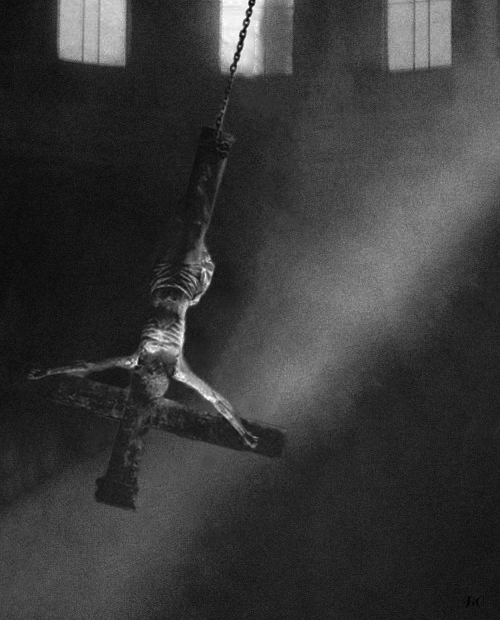 Feature Writer: cock-slave-666
Feature Title: Today I tried to repent to Jesus
Link: TUMBLR /  09.12.2019 / Posted by https://cock-slave-666.tumblr.com/
Today I tried to repent to Jesus
TODAY I TRIED TO REPENT TO JESUS IN THE SACRAMENT OF CONFESSION. AS I GOT TO CHURCH I GOT A OVERWHELMING FEELING OF HATE FOR JESUS AND I FELT MY COCK GET HARD. I WAS VERY AROUSED I SAT IN THE BACK OF THE CHURCH TRYING TO GATHER MY THOUGHTS TRYING TO REMEMBER ALL MY SINS AND GETTING THE NERVE TO RECEIVE THE SACRAMENT… WHEN THE THOUGHT POP IN MY HEAD CLEAR AS DAY IT SAID… "FUCK JESUS, SERVE SATAN. FUCK JESUS, SERVE SATAN. FUCK JESUS, SERVE SATAN…"
THEN I HEARD… "MASTURBATE FOR ME, WORSHIP SATAN… RENOUNCE JESUS IN FRONT OF THE TABERNACLE… SHOW HIM YOU WANT SERVE SATAN AND HIS LUSTS."
SO I DIDN'T GO TO CONFESSION, BECAUSE I FELT SATAN'S PRESENCE MORE THAN I EVER DID BEFORE, AND I WELCOMED IT.
I SAID IN A LOUD VOICE… "FUCK YOU JESUS, I RENOUNCE YOU JESUS…" I TOOK OUT MY COCK AND MASTURBATED RIGHT THERE IN THE CHURCH, I ALSO TOLD JESUS… "I RATHER SERVE SATAN AND HIS GLORIOUS COCK AND ALL COCKS OF MEN AND DEMONS THAN WORSHIP HIM AGAIN…"
AND THEN I LOOK AT BLESSED VIRGIN MARY STATUTE AND SAID TO HER… "I WANT TO FUCK HER VIRGIN CUNT AND THAT HER CUNT BELONGS TO ME…"
THEN I PRAYED TO SATAN SAYING… "HAIL SATAN, FUCK CHRIST…" I SAID THIS MANY TIMES, ASKING SATAN TO FUCK ME HERE IN THE CHURCH IN FRONT OF JESUS IN THE BLESSED SACRAMENT… SAYING MANY VULGAR AND BLASPHEMOUS WORDS AND CURSING AT JESUS.
I KNEW SATAN WOULD HELP ME COMMIT TO HIM AND I LOVE HIM.
I HOPE SATAN DOES NOT LET GO… I WANT TO BE IN HELL WITH HIM SERVING HIS LUSTS AND PERVERSIONS… LORD SATAN, THANK YOU FOR CHOOSING ME TO SERVE YOU AND HELPING GET THE LIES OF JESUS OUT OF MY HEAD.
I LOVE YOUR SATANIC PRESENCE IN ME I AM LOST WHEN I DON'T FEEL YOU SO GIVE ME… MORE COCK… MORE CUNT… MORE PERVERSIONS… MORE BLASPHEMY… MORE DEPRAVITY… MORE LUST… MORE LUST DEMONS TO POSSESS ME FOR THE GLORY OF SATAN
HAIL SATAN, HAIL SATAN, HAIL SATAN. NEMA.