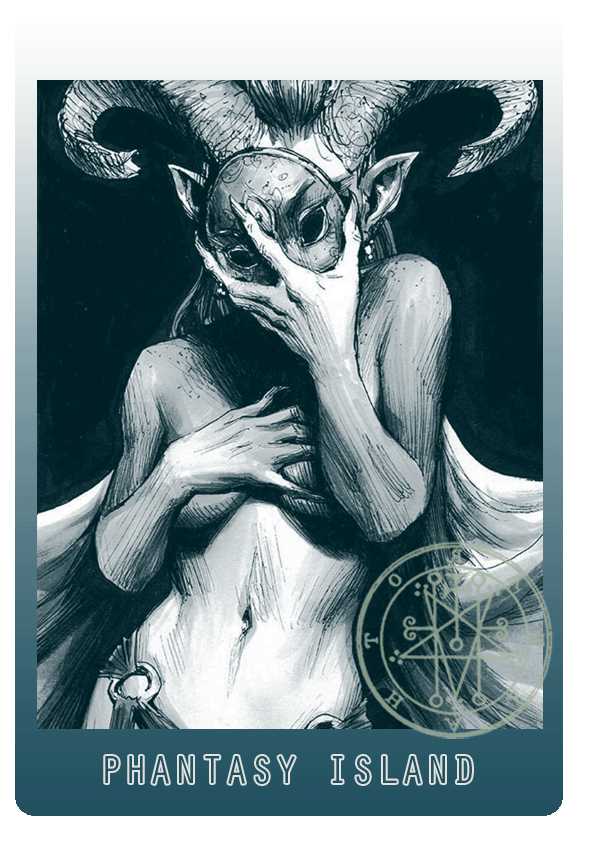 Writer: XP
Subject: Phantasy Island 4 —Coming Very Soon
Author's Notes: Hail All — The next 3 chapters coming soon
Link: LS666 / 26.05.2022 / Previous Chapters …  Phantasy Island 3
Hail All,
Just uploaded three new chapters to the story PHANTASY ISLAND 4 —
"We all have them don't we? You know, those dark places in our minds, where we find ourselves sometimes; when we cannot "get-off" on what most folks enjoy. These dark places manifest — and if they ever became real — we may find ourselves wishing they weren't? You tell me …"
Phantasy Island 4 – Coming Very Soon 

SYNOPSIS OF PHANTASY ISLAND 3 & 4

Find out more about the inhabitants of this mysterious place where nightmarish fantasies have a habit of coming true — What is the backstory to the enigmatic Dr. Ursula Shaw? What has her evilly tattooed assistant, Hoku, been up to? Who are the new guests to Phantasy Island; and what do they unwittingly seek? Will Mercedes North find herself? — she maybe shocked with the truth. Maddie Haig is a school teacher seeking love in all the wrong places. Kitten Pistis is crippled — once through illness and once again by her staunchly religious husband. The Swami Guru Salil Gupta says he wants nothing — but that's a lie. Sofia Sian is a herpetologist seeking a treasure island adventure … will they get what they want OR what they really deserve?
MMICHAELS (VIA RELIGIOUSFETISH.COM) 
My response can be summed up in one word … MORE!!! I NEED TO KNOW WHAT HAPPENS NEXT …
ASAG SATAR ( VIA MEWE) 
My beloved friend .. Lover … Thank you for thinking of me .. You know I love you for your beautiful perverted horny way .. I am addicted to you and your words.
TWOTOTWENTY (VIA EMAIL)
You have a way with words, my friend. I am not into transvestites, but when Ursula was stroking her bulge while talking to Mercedes I swelled up. Kitty is a good woman who knows what she wants. That slight vicious streak in her is wonderful. But the best is that dumb slut Maddie. It's beautiful watching them hold her down and change her forever. She'll never come back from that. She will worship for life. Cock is her new God.
T SMILE (VIA EMAIL)
Your writing is truly amazing and has grown over the years in darkness. That said, my preference would be to focus on fewer characters at a time and with each submission have a final act of depravity included … anticipation is fine but when I jerk to your stories I need to cum … Hail Satan Brother … Keep up the corruption of others..
RESPONSE FROM XP (VIA EMAIL)

Thank you for the encouragement. It takes time, effort and dark inspiration to write these stories. Sometimes the stories just flow … Other times, it takes more thinking and masturbation to bring forth that dark imagination … Busy working on Phantasy Island Four — want to take the guests into the furthest reaches of their evil psyches.
HOKU LANI (VIA MEWE)
I enjoyed the first read, especially liked the fantasy and character in the wheel chair and how the feeling returned. It left me wanting more. I also liked the sun storyline of those who never left the island. Made me wonder if Hoku or the Dr. were also as such. This story has great potential to even become on par with Pleasure has no boundaries …
RESPONSE FROM XP (VIA MEWE)

Thank you Hoku … your comments mean a lot to me … each character has their own twist … and though sometimes it feels as if I have bitten off too much to chew … something happens and their story goes deeper and deeper … I love it and I hate it … if that makes sense … because it demands a great deal of thought and masturbation … but in Phantasy Island 4 … I will explore "Hoku" as the "beast" rather than just sex with animals … the cripples' secret revealed … the transvestite as a sexual vampire … the discovery of the serpent and original sin … the guru's fatal attraction to his goddess … and two new characters who popped into the storyline without my consent … haha
ANKUR (VIA EMAIL)
Absolutely loved this new venture and each and every character was a delight to witness! Starting from the very sophisticated yet mischievous Dr, Ursula to the Indian pandit and the zoologist was a complete ride! My favourite part being the one where Mercedes witnessed the groin area of Dr Ursula while she lectured. That was red iron hot! Overall the entire story boomed with lots of tension and arousals and very eager to see what happens to Kitty in the next venture! Very very eager to see the next sequence! Hail Satan!
BOSS HOG76 (VIA MEWE) 
Hail XP Phantasy Island 3 was glorious. I was wondering when you were going to publish the next chapters of seminary for sissies series? Also I was reading a great story about a preachers wife and a religious bookstore owner who indulged in the dark arts in his special room but I can't seem to find it again on your site can you help me find it so I can finish reading it. Thank you and again. Hail Satan.
HOMER SMITH (VIA MEWE)
Your words are full of the darkness.
ROB HRUSKA (VIA EMAIL) 
Loved it!
SAMANTHA SATINE (VIA EMAIL)
Enjoyed … Need to get to the island … Samantha sissy slut and servant/slut/whore of Satan and his demons now xxx …. Thank you for writing about the island and tempting us all to visit when we find the secret to getting transport there … My mind is read and body willing let the doctor – Dr. Ursula Roarke – work her charms on me — Sissy panty fag and whore of Satan xxx
RESPONSE FROM XP (VIA EMAIL)

Yes Samantha — the Island awaits with all the glitter and glamour that hides its evil purpose — that only our kind would truly appreciate. Hail LVST! XP
IDRIS IBRAHIM (VIA EMAIL)
Love beyond words, wish could enjoy every possible pleasure with absolutely no limits whatsoever.
MICK MICHAELS (VIA RELIGIOUS FETISH) 
I absolutely loved it. This is one of my new favorites out of all your excellent stories … Absofuckinglutely LOVE IT!
RESPONSE FROM XP (VIA RELIGIOUS FETISH)

Thanks Mike — I'm glad you liked it — it took a little longer than the usual stories. And now I have to think up another five more devious plots for the next wayward batch of perverted individuals that seek to have their subconscious wickedness fulfilled … it's a process a bit like asking myself … what do I want if I were to be the winner and go to Phantasy Island? And then writing it down … I'm such an evil perv … haha
ANTHONY (VIA EMAIL) 
Hi XP my wife would love it on the island she would drop her knickers for depraved animal sex with all the beasts our dark lord will enjoy her cunt and her is big satanic cock
KOHN 555 (VIA EMAIL)
Your stories are incredible. Brought dark lust inside my thoughts.
DA CHIEF (VIA EMAIL)
Although the man/boy stuff is not my thing, I DO like the blasphemy … especially with nuns.
ANKUR (VIA EMAIL) 
Indeed, Hail Satan! Would also love to see a story from you where its totally focussed on child abuse by the parents or the approval of parents. Sort of like the story 'Itchy in the cunny' or 'Haunted Orphanage'. Anyways, I love your work and looking forward to this new chapter of Phantasy Island.
ASAG SATAR (VIA MEWE)
Thank you my dear friend … finally pleasurable fulfillment again … my desire to be fucked is getting bigger and bigger … and if you like give me a prayer for Satan that I will internalize with love … I love it so much
RESPONSE BY XP (VIA MEWE) 

My Dearest — I was feeling down and a little forgotten in the throng and maelstrom of pornographic lifestyle that fills these pages — how to stand out against that beautiful flesh of cunts and cocks, all throbbing, wet with buckets of semen spilling in the names of the evil gods and goddesses … but to be loved and appreciated is something I have learnt to cherish for it feeds me like nothing else … I am certainly a needy lover that wants to please and be pleased … thank you for your encouragement … love XP

HOKU (VIA LS666 & MEWE)
Fantasy Island ran for seven years beginning from 1977 through 1984. Had XP been on of the writers I'm sure it would had lasted another ten or twenty. If this is the teaser, I say you have many more chapters to share with this plot. "Hoku's slender body was perfect, without a single tan mark or blemish. Her cunt was hairless, but heavily tattooed with the face of what appeared to be a horned demon; where her cunt lips formed the obscene shape of its evil mouth; and her penal-shaped clit stood vulgarly upright; like the devil's tongue sticking out from between her open labia." Thank you, for not sharing what the tattoo says, that rings my anus.
BOSSHOG76 (VIA MEWE)
MICK MICHAELS (VIA RELIGIOUS FETISH)
As always, your work is excellent. I am looking forward to seeing how each of these various fantasies play out. I think you started something that will grow and grow because the possibilities are Limitless with each new wave of participants coming to the island.
BAERKE 63 (VIA MEWE)
Great story, eager to read the next episodes full of lust and perversion. Love to read the new chapters. Also new chapters of seminaries for sissies? — Mmm, you really are one great writer — Love your stories. Wish I was in them, offering my body for lust and perversion. There is nothing wrong with our dreams. I think incest is not wrong. Who else can teach better then your own relatives in stead of an unknown person. Teaching all kind of sex, gay, bi and straight sex. If you have not tasted the Lust of a cock in your mouth and ass, piss and cum in mouth and ass, only got lessons in straight sex, then one misses full pleasure and is unknown of the joy of perverted sex. I pray to my Lord Satan and Lilith that they succeed in opening up the eyes of the ignorant, so called moral people
VINETTE SWALLOWS (VIA MEWE)
CHESIRE (VIA RELIGIOUS FETISH)
Mr XP. Great start with Phantasy Island. I really enjoy reading the sinister way these various "Phantasy's" are developing. Very creative the character development of Dr. Ursula Roarke. Anxious to read on.
DANISHSHE (VIA MEWE)
ZAMAN (VIA MEWE)