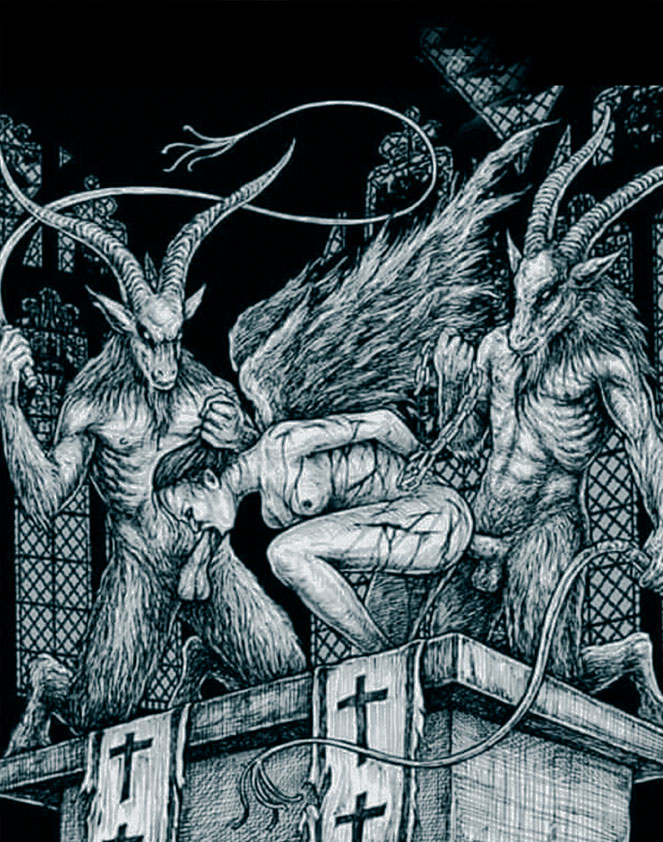 Writer: guardian-wolf-666
Subject: In the most powerful name of Satan!
Link: Tumblr / 18.06.2021 / Reposted by guardian-wolf-666
In the most powerful name of Satan!
So, you're new to tumblr. Finding all these images of naked men sucking cock and being fucked bareback.  This is freedom. But you see something else. What is this? Images of Satan? Inverted pentagrams? Demons? And a stirring on the inside. You sort of like it, but you were always told to stay from such things because … it was evil and wrong.
You find yourself coming closer to these images. Staring at them, getting that gleem in your eye to go further. Go ahead touch your cock through your jeans as you look at the Demon with the horns and red firey eyes fucking the man in the ass. Next thing you see is those same red firey eyes coming from the man. Your cock is definitely filling out.You feel that lust. You want it. Your heart is racing sitting in your car outside wherever you are. You are alone, just you and tumblr. The next image is a graphic comic of a Demon horse fucking a blond young man with his hands tied up. You see the huge fucking Demon horse dong fucking the young man endlessly until the Demon seed shoots in the young man's ass.
In a firey blaze eminating from the Demon's cock the young man is transformed into a Demon with a huge horse cock as big as the Demon who fucked him. In the final pic, the young man is fully integrated into the cock hungry demon feeling the power inside him. You find that so fucking hot. Your cock is completely filled out and hardened as a door. Nothing can make you go down. You now stumble upon a video of a Demon upstairs in a darkened room sharpening his finger nails as the camera pans downstairs to a naked man lying on an alter masturbating his penis with a soundtrack vocalizing the pleasures of …
"Masturbate your penis! Release your sperm! Offer it all to Satan! You are his! Hahahahaha!"
Your cock is leaking precum. Fuck yes! You watch this scene over and over again! You are delirious by this time when you realize you can't stop. You must have more porn, more fucking, more sucking cock,  more Satan. More Demons, more perversions. It feels so fucking good. Soon you find cartoon pics showing Jesus at the Last Supper, but it's not the pic you are use to seeing. It's Jesus and his Disciples fucking and sucking cock.  Oh fuck yes! Yes! This is so absolutely fucking hot. Right there, you unzip the fly on your jeans and look around to make sure nobody is around. You pull your hardened shaft out and begin to stroke the massive cock before you.
The next pic you come upon is a graphic of Roman soldiers fucking Jesus who is nailed to the cross and wincing in pain. You find yourself cheering on that Roman soldier …
"Yeah fuck Jesus! Shoot your load deep in his ass."
You picture in your mind as one soldier pulls out of Jesus's ass another takes his place and the first one comes around and force feeds his cum and ass stinking cock to Jesus's mouth forcing him not to waste a drop.  Your lust is the skies the limit. You balls are drawn tight up to your scrotum. You know if you see one more pic, your cum will be shooting you in the face just sitting inside your car. But you must look. The last pic is Jesus fucking a lamb.
Inserting his hard erected cock and smiling showing Jesus fucking all his sheep, all his followers signifying they are controlled by the false Xristian religion. His sheep are kept in their place, not allowed to think for them selves. He is fucking the masses along with the fucking Trinity. You are so hard up. Your cock is hard as a brick and you don't care anymore. The final pic is Jesus in the Garden of Gethsemane praying when you realize a demon is licking his ass. This sends you over as you stroke you cock faster and faster. Your other hand goes up in the air giving the Satanic hand sign as you begin shooting your load as you say these words …
"HAIL SATAN! HAIL SATAN! I AM YOURS, SATAN. FUCK ME SATAN! TAKE MY SOUL! IMPALE ME WITH YOU DEMON COCK! FILL ME WITH YOUR DEMON SEED! MAKE ME YOUR DEMON! IN THE MOST POWERFUL NAME SATAN!
Your cock shoots it's load all over you, all over the inside of your car.Your face is all wet and even some of your cum has gotten inside of your mouth and you realize for the first time, your cum tastes good. You want more. You start licking your hands and even the steering wheel as cum is dripping from it. You catch the last few drops of cum fluid dripping from your cock licking your fingers …
"HAIL SATAN! THANK YOU SATAN! I AM YOURS SATAN! FUCK! SO FUCKING INCREDIBLE. I HAVE NEVER SHOT MY LOAD LIKE THAT BEFORE!"
Now begins your journey of enlightenment, balance, and freedom. Life is good. You are a child of Satan that refuses to let society think for you. You enjoy your new found freedom. You are different. You've changed. People notice it. You have taken charge of your life, not needing approval of others. You finally have found yourself in the most powerful name of Satan! NEMA!