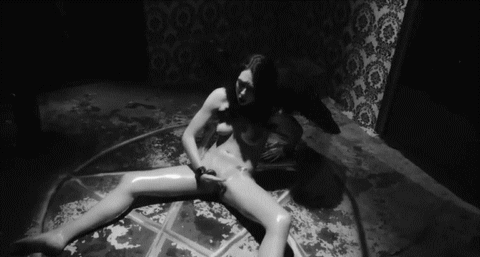 ASK XP 2
This a recent conversation that took place of several days between AM and myself over email — I hope she find what she is after — and I share this (without her name being revealed).
AM ASKED:
What is the most quick and efficient way of getting possessed by lust demons?
XP ANSWERED:
Evil begets evil – like for like – evil has its own energy and the more you think about it, the more comes to you – I have been worshiping sex demons, since I was a young child and I feel the evil energy around me – it envelopes me and brings on the most depraved feelings.
So start with porn. Not ordinary porn. Satanic porn. Nuns fucking themselves with religious objects. Priests fucking little boys. Black masses. Inverted crucifixes. Transgendered demons with tits and Long serpentine cocks. The Baphomet. Masturbate to these images and videos often. Make it a ritual. Try to push yourself to find the most perverse, the most depraved, the most blasphemous — the demons will come.
AM SAID:
I am also young. It's hard to do this and living in a christian household. My brain is constantly filled with lust and perverted thoughts. The darkness and demons draw me in and I love it.
XP ANSWERED:
But it is a lot easier than it was for me at a young age – as you all have access to the web (obviously) – it's just finding the private space to explore your desires
AM SAID:
Do you have any recommendations on satanic porn? like any sights?
XP ANSWERED:
There are lots of places to find satanic porn — Pornhub or xhamster or xvideos or motherless — just search "satanic porn" — try religiousfetish.com — bsdmlr and tumblr are also good picture sources — there are an endless number of sources of filth — join MEWE and search for satanic, devil worship, 666, groups (of which there are dozens) … BUT be safe and be anonymous.
AM SAID:
I used all the cites you gave me. For some reason I can't go for a while though. I can only do it once.
XP ANSWERED:
Why? You should be able to go to these sites as regularly as you want? Are you using a laptop, tablet or desktop? Do you have any limitation software that prohibits you from visiting these sites?
AM SAID:
No, I mean, I can only get off to it once. I want to go longer but I can't for some reason. When I release, I can't go longer.
XP ANSWERED:
So you are talking about cumming multiple times?
AM SAID:
Yeah
XP ANSWERED:
You need to take a break between cumming – usually, I "EDGE" – that is that I don't cum straight away, each time I come close to orgasm, I stop. I let my orgasm recede and then I start to build up again, and again and again – I edge for hours (getting close to ejaculation – but not actually coming) – that way I can look at satanic porn all day. When you eventually cum – it is much, much stronger.
AM SAID:
Okay, thank you so much. I'll try that. Also, is it working if I'm constantly feeling horny. Because that's starting to happen.
XP ANSWERED:
See how long you can hold out for — when I started edging, maybe 20 years ago, I could only last three hours — how I can go for days — the reward is not the orgasm — you have to ignore that — it's about how you become more lucid, aware of the demons rising inside yourself — daring you to go further — looking for the most perverted and most depraved porn to jack-off too.
AM SAID:
Okay, I'll try to edge tonight. I'm constantly getting horny and wet. Is that how it's supposed to work? To constantly be horny?
XP ANSWERED:
Let me know how you go — the demonic infestation may not be immediate; but you will begin to feel a draw towards certain types of porn — that may be thought of as unacceptable in society — but that means the demons are driving you sexual desires toward the depraved, wicked and perverted …
AM SAID:
Idk, I just watched priests fucking boys and played with my clit. I had to keep stopping though since my family was kind of up. I also saw another one where a priest was in a satanic gay gang bang.
XP ANSWERED:
So what is your orientation? What are your preferences? Satan welcomes all ..
AM SAID:
Lesbian.
XP ANSWERED:
So, would you like to meet other lesbians who love Satan and Lilith?
AM SAID:
Yeah, probably. I may be a lesbian, but I always dreamt of getting fucked by a shemale. My fantasy is getting kidnapped on my way from school from many transgenders with big tits and long cocks. I want to get tied up and tortured as they fuck all my holes and cum and piss all over me. I wish that can happen. I have another fantasy where they chain and cuff my family because they're christian but make them watch me get fucked and suck on the transgendered guards while denouncing my christianity and using gods name in vein as I call out to Satan while they cum and piss in my holes. I started thinking more and more about it since last year. Can you also send me some links the most perverted and blasphemous pen you've seen?
XP ANSWERED:
[inserted links to my most perverted stories + links to Wet Amber's stories] — These are mine .. stories from others will be in the blog – there are lots … I will try to give you a selection of my favourites
AM SAID:
I think I got up to almost 3 hours yesterday. From reading Convent From Hell 1&2
XP ANSWERED:
Mmmmmm … yes … soon you will be able to goon all night long …
AM SAID:
I can't wait — I going to try to go a whole day tomorrow. Also, do you know how I can denounce my Christianity?
XP ANSWERED:
Do you have a bible? Urinate over it and masturbate with the piss wet pages — have you fucked the crucifix yet? Rubbing Jesus Christ against your clit? Piss and shit over the Nazarene! Hail Satan. Fuck the Holy Spirit.
AM SAID:
I have a bible so I can piss all over that. And I haven't spoken to them yet.
XP ANSWERED:
Soak the bible and masturbate over it – soak it in menstrual blood. Take a photo of it after you cum on it and send it to me – call it and offering to Satan …
AM SAID:
I will.
XP ANSWERED:
A worthy sacrifice – tell me how it felt to do such a blasphemous thing – tell me how it felt when you orgasmed?
AM SAID:
It felt amazing tbh, like I wasn't myself.
XP ANSWERED:
Excellent – do you drink your piss?
AM SAID:
No, I haven't yet. I used to piss on my pillow and smother my face in it. I never knew what piss play was when I did that. I was younger and had no idea.
XP ANSWERED:
The voyage of discovery — of yourself — it's beautiful.
AM SAID:
I wanna do something super blasphemous but idk what.
XP ANSWERED:
Have you masturbated using a crucifix – urinated or shit on Jesus? Posted sometime for you on this in her MEWE page.