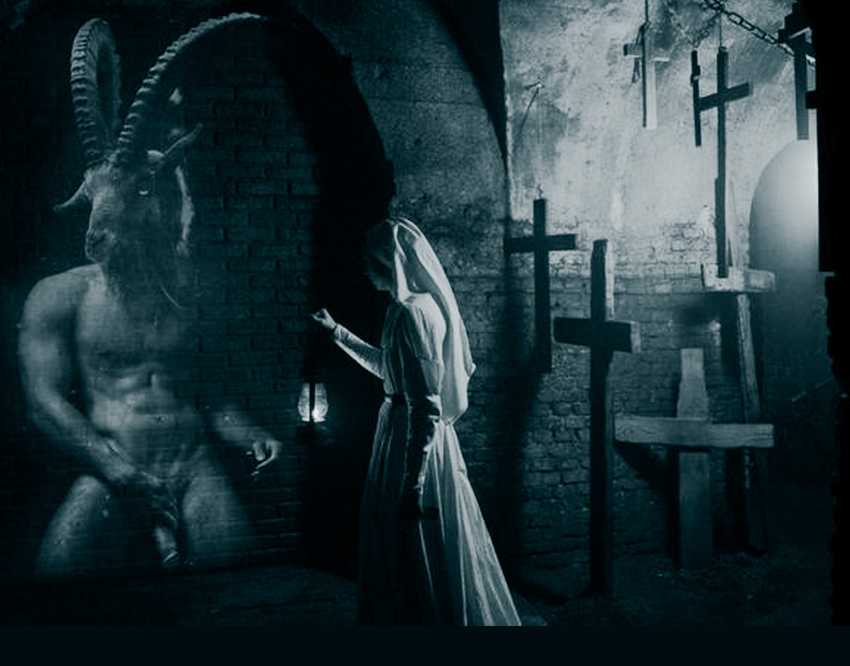 Feature Writer: Brother Eurynomous
Feature Title: Arena of Evil
Link: MEWE /  18.05.2020 / Brother Eurynomous
About the Author: I am of the Old Paths of the Evil and the Unholy. A Devil Worshiper, an Initiate of the Inner Sanctum of Satanic Diabolism. My journey into darkness began in 1979 and has lead me deeper and deeper into sin, corruption and insidious acts of the most nefarious Arts of Black Magick. Each and every Commandment of God I have broken that I may merge with my Father Satan and His Legion on the deepest levels.
Now as I enter into the final phase of my life upon this realm of Infernal breeding I seek to bring knowledge of the Diabolic Arts too long veiled from the sight of those who would devour their power. To seek the one who may carry forth the Black Torch I have long held before me. Ave Satanas!
Arena of Evil
𝐖𝐞𝐥𝐜𝐨𝐦𝐞 𝐭𝐨 𝐦𝐲 𝐚𝐫𝐞𝐧𝐚 𝐨𝐟 𝐞𝐯𝐢𝐥… 𝐭𝐡𝐢𝐬 𝐚𝐜𝐜𝐨𝐮𝐧𝐭 𝐢𝐬 𝐭𝐨 𝐛𝐞 𝐭𝐡𝐞 𝐩𝐮𝐛𝐥𝐢𝐬𝐡𝐢𝐧𝐠 𝐛𝐚𝐬𝐞 𝐟𝐨𝐫 𝐭𝐡𝐞 𝐆𝐫𝐢𝐦𝐨𝐢𝐫𝐞 𝐒𝐀𝐓𝐀𝐍𝐀𝐒 𝐌𝐘𝐒𝐓𝐄𝐑𝐈𝐎𝐑𝐔𝐌, 𝐭𝐡𝐞 𝐡𝐨𝐦𝐞 𝐨𝐟 𝐓𝐇𝐄 𝐂𝐀𝐁𝐀𝐋 𝐎𝐅 𝐓𝐇𝐄 𝐃𝐀𝐌𝐍𝐄𝐃 𝐚𝐧𝐝 𝐚 𝐟𝐨𝐫𝐮𝐦 𝐭𝐨 𝐮𝐧𝐯𝐞𝐢𝐥 𝐭𝐡𝐞 𝐭𝐫𝐮𝐞 𝐮𝐧𝐡𝐨𝐥𝐲 𝐝𝐞𝐛𝐚𝐮𝐜𝐡𝐞𝐫𝐲 𝐚𝐧𝐝 𝐢𝐧𝐬𝐢𝐝𝐢𝐨𝐮𝐬 𝐁𝐥𝐚𝐜𝐤 𝐌𝐚𝐠𝐢𝐜𝐤 𝐀𝐫𝐭𝐬 𝐨𝐟 𝐓𝐡𝐞𝐢𝐬𝐭𝐢𝐜 𝐃𝐢𝐚𝐛𝐨𝐥𝐢𝐜 𝐒𝐚𝐭𝐚𝐧𝐢𝐬𝐦 𝐚𝐧𝐝 𝐃𝐞𝐯𝐢𝐥 𝐖𝐨𝐫𝐬𝐡𝐢𝐩. 𝐎𝐧𝐥𝐲 𝐣𝐨𝐢𝐧 𝐦𝐞 𝐡𝐞𝐫𝐞 𝐢𝐟 𝐲𝐨𝐮 𝐰𝐢𝐬𝐡 𝐭𝐨 𝐛𝐞 𝐛𝐚𝐭𝐡𝐞𝐝 𝐢𝐧 𝐭𝐡𝐞 𝐔𝐧𝐡𝐨𝐥𝐲 𝐁𝐥𝐨𝐨𝐝 𝐨𝐟 𝐎𝐮𝐫 𝐋𝐨𝐫𝐝 𝐒𝐚𝐭𝐚𝐧!
𝓣𝓱𝓮 𝓓𝓮𝓿𝓲𝓵 𝓲𝓼 𝓶𝔂 𝓕𝓪𝓽𝓱𝓮𝓻 . . . 𝓯𝓸𝓻 𝓘 𝓪𝓶 𝓪 𝓢𝓸𝓷 𝓸𝓯 𝓢𝓪𝓽𝓪𝓷 . . . 𝓪𝓷𝓭 𝓘 𝓪𝓶 𝓱𝓮𝓻𝓮 𝓽𝓸 𝓫𝓻𝓲𝓷𝓰 𝓯𝓸𝓻𝓽𝓱 𝓽𝓱𝓮 𝓓𝓪𝓻𝓴 𝓐𝓮𝓸𝓷 𝓸𝓯 𝓗𝓲𝓼 𝓖𝓵𝓸𝓻𝓲𝓸𝓾𝓼 𝓚𝓲𝓷𝓰𝓭𝓸𝓶 . . . 𝓴𝓷𝓸𝔀 𝓽𝓱𝓪𝓽 𝓽𝓱𝓮 𝓽𝓲𝓶𝓮 𝓸𝓯 𝓞𝓾𝓻 𝓘𝓷𝓯𝓮𝓻𝓷𝓪𝓵 𝓛𝓸𝓻𝓭 𝓪𝓹𝓹𝓻𝓸𝓪𝓬𝓱𝓮𝓼 𝓪𝓷𝓭 𝓫𝔂 𝓪𝓬𝓽𝓼 𝓸𝓯 𝓬𝓪𝓻𝓷𝓪𝓰𝓮, 𝓫𝓵𝓪𝓼𝓹𝓱𝓮𝓶𝔂 𝓪𝓷𝓭 𝓽𝓱𝓮 𝓦𝓸𝓻𝓴𝓲𝓷𝓰𝓼 𝓸𝓯 𝓗𝓲𝓼 𝓑𝓵𝓪𝓬𝓴 𝓐𝓻𝓽𝓼 𝓼𝓱𝓪𝓵𝓵 𝓽𝓱𝓲𝓼 𝓚𝓲𝓷𝓰𝓭𝓸𝓶 𝓫𝓮 𝓭𝓮𝓵𝓲𝓿𝓮𝓻𝓮𝓭 𝓸𝓷𝓽𝓸 𝓽𝓱𝓲𝓼 𝓦𝓸𝓻𝓵𝓭!
𝓐𝓿𝓮 𝓓𝓲𝓪𝓫𝓸𝓵𝓾𝓼 . . . 𝓐𝓿𝓮 𝓢𝓪𝓽𝓪𝓷𝓪𝓼!